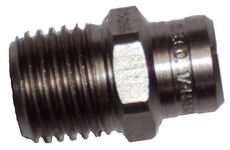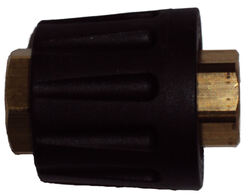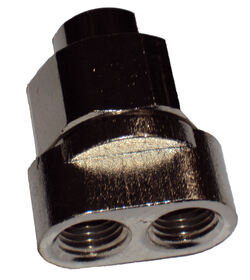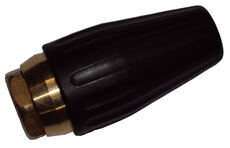 Stainless Steel Nozzles

  
Low and High pressure nozzles in angles from 0 to 40 degrees. Please state angle and size required (use table above to work out size). These nozzles all have 1/4 male thread, we also supply 1/4F sockets if required.
Adjustable Nozzle Holder

.
This unit is an alternative to a double lance. By twisting knurled shroud, pressure can be reduced whilst maintaining the volume thus enabling detergent to be administered through an injection facility. Requires a nozzle of the correct size (see above).
Max. bar 250, max. vol 30 ltr/min, max temp 150C, Ports 2 x 1/4F   241.ADJNOZ
Changeover Nozzle Holder
This unit is a simply engineered device for alternating nozzle widths/sizes etc. without the use of spanners. It accepts two different high pressure nozzles e.g. pencil jet and wide angle jet, which can be used alternatively by turning the lance over to set jet whilst trigger is not squeezed. Max bar 200, max vol 40 ltr/min, max temp 90C, 1/4F inlet, 2 x 1/4M outlets. 23001500
Turbo Nozzle
Rotating action gives enhanced cleaning capability. Pressure and volume of machine are required to determine nozzle size.
Max temp 100C, Max bar 210.
(350 bar)