All our cold water P.T.O. pressure washers now have a Galvanised frame.
Drain Jetter
Drain jetting is often thought of as a job for contractors with very expensive and large machinery. Our range of P.T.O. powered pressure washers will cope with jetting out even completely blocked drains up to one hundred metres in length, all at a cost which is relatively in-expensive. Using your own pressure washer for jetting drains cuts the down time while waiting for a contractor to arrive. Drains can be cleaned at the convenience of the operator.
The ultimate in pressure washing and drain jetting can be found in any of the P.T.O. machines especially the 3 point linkage P.T.O. bowser (800, 1000 or 1200lts). The P.T.O. (running at 1000rpm) machines will give you 30 litres per minute running at a pressure of 200bar, this machine will run a jetting nozzle 100m up a drain with ease. The 1000 litre reservoir holds enough water to run the machine for over half an hour, plenty of time to remove even the most stubborn of blockages.
Jetting uphill towards the blockage allows the water to flow back down the drain

carrying and debris loosened by the jetting process. When the blockage has been removed, or when the hose has reached it's full length up the drain, leave the unit running as the hose is being wound back onto its reel. This ensures that the nozzle is kept clear of dirt and also flushes the walls of the drain to leave a completely clear drain. The high pressure jets clean every joint in clay tiles and open up every pore in the more modern plastic drains. On sewer drains, the hose is flexible enough to negotiate a ninety degree bend, but on a straight run it is rigid enough to use in a rodding manner.
These units' versatility, as they need no power supply other than the tractor and can be taken anywhere with a water suppy, are becoming more and more popular for the do-it-yourself farmer and groundsman.
These machines can be fitted with a Gear Box Option if you don't have 1000r.p.m on your tractor or if you want to run your tractor with less revs.
All prices are subject to VAT but include Mainland Delivery.
100m Drain Jetter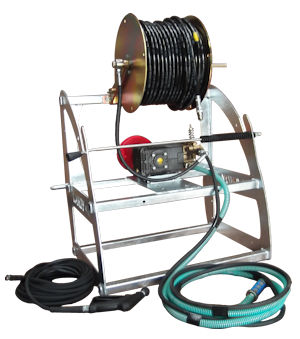 The 100m Drain Jetter has the running specs as above (30L/min @ 3000 p.s.i./200bar).
Mounted with 100m of thermoplastic drain jetting hose on the single zinc plated hose reel.
It also has:
15m high pressure washing hose and lance for general use.

900mm lance

washgun

4m suction hose

4m bypass hose

P.T.O. shaft

Mainland delivery included
Prices are subject to VAT but include Mainland Delivery.