All our cold water P.T.O. pressure washers now have a Galvanised frame.
Two Lance
Both models operate 2 lances at 3,000 p.s.i. / 200 bar with 15 litres of water down each lance when operated at 1,000 r.p.m.
There is a Gear Box Option available for these models which would allow you to reduce your tractor revs or if you cannot run at 1000r.p.m.. Please click the link for more information.
All prices are subject to VAT but include Mainland delivery.

Standard two lance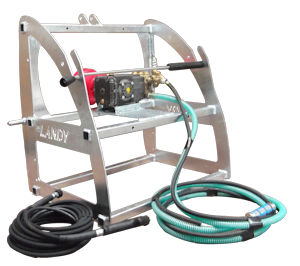 This machine has 2x 15m of high pressure washing hose.
Both are supplied with:
2x 900mm lances

2x washguns

Suction hose

Bypass hose

P.T.O. shaft

Mainland Delivery is included
Hose Reel two lance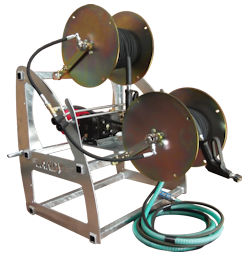 This model is built on a larger frame mounted with two zinc plated reels.
Each reel can carry 30m or 50m of high pressure washing hose.