All our cold water P.T.O. pressure washers now have a Galvanised frame.
Combi Washer/Jetter
As with the other P.T.O. machines this model will give you 3000p.s.i. / 200 bar down both the washing line and the drain jetting line.
For drain jetting you need to run at 1000rpm to give 30 litres of water per minute.
For pressure washing you need run at 540rpm to give 16 litres per minute.
All prices are subject to VAT but include Mainland Delivery.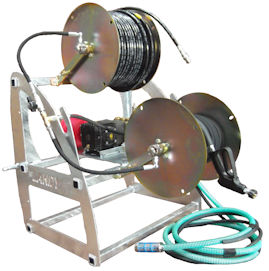 We have differnt options for the Combi machine:
30/50 - 30m high pressure washing hose and 50m of drain jetting hose

50/50 - 50m high pressure washing hose and 50m of drain jetting hose

30/100 - 30m high pressure washing hose and 100m of drain jetting hose

50/100 - 50m high pressure washing hose and 100m of drain jetting hose
All Combi machince also include:
900mm lance

Washgun

Washing nozzle

Drain jetting nozzle

4m suction hose

4m bypass hose

P.T.O. shaft

Mainland delivery